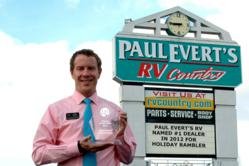 Fresno, CA (PRWEB) December 18, 2012
Paul Everts RV Country is excited to announce that they have been named the number one Holiday Rambler dealer in the nation! Having been avid lovers of the Holiday Rambler brand, RV Country has attended every Pre-Rally since 1992. They also spent the past year traveling around the country attending many RVing events getting to know the Holiday Rambler customer better, and learning how to best serve them. Though RV Country has many options to choose from when selecting motorhomes to carry for their customers, Holiday Rambler always rises to the top. Unique floorplans, beautiful color schemes, exceptional driveability and the utmost reliability makes the Holiday Rambler an easy fit.
We love the Holiday Rambler community and are proud to sell this superior product. This is an exciting award for us to receive, and we look forward to continuing this great partnership for years to come says Curt Curtis, Vice President of Paul Evert's RV Country.
Our dealers play a critical role in our success, displaying an outstanding commitment to the partnership between manufacturer, dealer and consumer, said Mike Snell, Vice President of Sales and Marketing, Navistar RV. Our Top Dealer is the one that goes the extra mile in sales, service and customer satisfaction. Paul Evert and his staff do one of the best jobs in keeping customers happy. They truly create great customer relationships.
Soon, Paul Everts RV Country will be taking a full selection of Holiday Rambler motorhomes to the annual Quartzsite RV Show, where they are the exclusive RV dealer under the tent. Carrying hundreds of different RVs for the customer to choose from is important for RV Country and they will proudly be displaying Holiday Rambler front and center.
Paul Everts carries a full range of Holiday Rambler models and floorplans in their five West Coast dealerships, the most popular being the Ambassador 36PFT. Perfect for everyone from the first timer to the full timer!
Holiday Rambler has been a pioneer in the RV industry since 1953. Their innovative ideas led to the first built-in refrigerators, holding tanks and slide-out kitchens. The Holiday Rambler RV is a solidly-built, high-end motorhome. They have become so popular that there is a thriving club of Holiday Rambler owners called the Holiday Rambler Recreational Vehicle Club (HRRVC).
Since 2009, Holiday Rambler has been a part of Navistar